Nude beaches in Spain - Playa nudista - Gay beaches in Spain Nude Beaches
Mainland Spain Nude beaches
Barcelona Nude beaches
Costa Brava Nude beaches
Roses
Costa de Almeria
Costa de Almeria
Balearic Islands Nude Beaches
Baler
Tenerife
Los Cristianos Maspalomas Mogan Playa del Ingles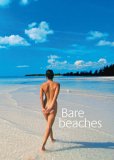 Bare Beaches book
Some nude books are listed at the foot of this page
In Spain it is not illegal to walk around naked in city or beach. By convention the practice is confined to both the official and non official nudist beaches.
Some of the nudist beaches are extremely popular, in fact more popular than nearby non nudist beaches referred to as 'textile' in Spain. Many of these popular nude beaches are visited by families.
Generally nude beaches are located more on the fridge of a town or even in a remoter beach or cove between towns
Often in even remoter sections of nude beaches is a gay beach
Barcelona Nude beaches
It is illegal to walk about the city nude or even in beach ware, this includes men being bare chested.
Beach wear & bare chests are allowed on the promenade & beaches
Platja de la Mar Bella Nude beaches
Barcelona's only official nudist beach is also home to the water sports centre Base Nàutica de la Mar Bella where you can hire equipment and take lessons in a wide range of activities on the sea. The other facilities include showers, toilets, garbage collection, children's play areas, parking, disabled access, lifeguards and safe drinking water fountains.
You're advised not to swim near the breakwater, not to bring domestic pets and not to use soap in the sea.
The beach is centrally located amongst Barcellonas beaches & just east of Mar Bella Sports Centre (Mar Bella Centre Esportu. It is therefore also used by many non nudists
Benidorm Nude beaches
Playa Poniente Nude beach
La Cala area by the rocks at the end of beach is a nudist area.
Ricon de Loix Headland Nude beaches
At the North West end of Playa Levante, a 10-15 minutes walk to the first bay beyond the Ricon de Loix headland. Use the short cut and walk along the pipeline, boxed in with concrete, just below the road.
There is another small bay further along which is nude & gay and also gay on the small paths around the small gorge that runs up from the bay towards the road & houses at the top.
Costa Blanca Nude Beaches
Cabo de las Huertas Near Alicante Nude beaches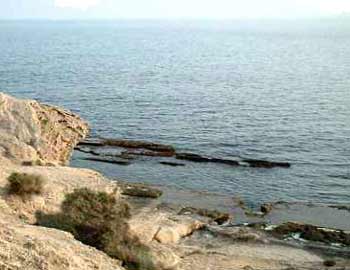 A rocky cove at Cabo de las Huertas
Cabo de las Huertas (Cape of Orchids) is the large headland north east of Alicante between Alicante and Platja de San Juan is Cabo de las Huertas a series of rocky small coves. These are listed in order from Alicante to The lighthouse on the headland
Cala de los judíos (Jews bay)
Cala Cantelares (Cantelares bay)
Cala Palmera (Palmera bay)
Playa de L'Albufereta (L'Albufereta Beach)
The coves are all popular with nudists. Some of the coves are popular with gays.
Slowly buildings of Alicante suburbs are being built nearer and nearer to the coves.
Bus Number 22 from Alicante
Cabo de las Huertas Cala Fonda - Villajoyosa
Cala Fonda near La Vila Joiosa Nude beaches
Cala Fonda, Villajoyosa (La Vila Joiosa), Alacant-Alicante
Playa Campomanes - Altea Nude beaches
10km North of Benidorm, near Altea. A partially gay nudist beach. Take the Altea to Calpe road, just before the tunnel, under Pueblo Mascarat.
Playa Raco Conill - Torre Conil - Playa Finestrat Nude beaches
By Bus & Walk
Take a bus to Playa Finestra bus stop near the beach.
Walk to the rounaboat next to the beach turn right on to Carrer Tramuntana and walk up the hill.
When Av. Mestrral branches off on the right Turn LEFT onto the dirt track which continues up the hill.
The trail skirts round some old buildigs they should be about 100m on your right, continue over the top of the hill continue mainly down hill too the minor road. Turn sharp left along the road and follow to its end and the cafe.
Total 2.5 km
By car turn off the N-332a towards the coast at the old Casino Building. Note the hill on the left. Playa Raco Conill is on the right hand side of the hill. Stick to the minor road, do not use the many trail paths. The road widens at the end, providing parking on both sides. 2.5km from the Casaino
There is a cafe bar at the far end of the car park,
20 m past the Cafe are steps & path to the beach 100m
Note
Costa Brava Nude Beaches
Calella - Playa de las Rocas Nude beac
Several coves with sandy beaches just west of Calella's main beach, one of them has a a restaurant & another a bar
Costa Durada Nude Beaches
Cala Fonda near Altafulla Nude beaches
Altafulla, Tarragona, Catalunya
From the A7 motorway turn off for Altafulla, exit 32 onto the southbound N340 for 2km turn off at the houses of La Mora, for Playa de la Mora where you can park. Continue on foot past the camping site and Waikiki beach along a rough track, difficult in places, to Cala Fonda which is just under a kilometre from the car park
The beach is of fine light golden sand and a good naturist beach
Fuerteventura Nude Beaches
La Oliva - Fuerteventura Nude beaches
A very pretty, unspoiled nudist beach with white sand.
Carabassi beach - playa de Carabassi Nude beaches
The golden sand Carabassi beach is 12 km south of Alicante and east of Elche in the area of Gran Alacant
Carabassi beach is a Blue flag beach. Some areas are rocky and some more sand dunes
The more remoter beach areas are nude and some Gay beach areas
Girona Nude Beaches
Roses - Nude beaches
Nudist beach accessed from the N-II.
Gran Canaria , Canary Islands, Spain Nude Beaches
Maspalomas Sand Dunes / Playa del Ingles Nude beaches
Details on our specialied site Gran Canaria site Maspalomas Sand Dunes
Mogan Nude beaches
This beach has nudist areas.
Ibiza, Balearic islands, Spain Nude Beaches
Aguas Blancas Nude beaches
Cala Corral Nude beaches
Es Bol Nou Nude beaches
Platja des Cavallet Nude beaches
Alternative names used on maps: Playa
Platja des Cavallet is not only an Official Nude Bathing Beach but the best nude beach on Ibiza, and many say the best in Spain. The heterosexual section is at the northern end and has a beach bar and further south is the Gay beach
Bus 11 from Ibiza town via San Jorge to the stop before the terminus at Salinas approximately every hour in Summer with a break early afternoon. More information Bus Route 11
Gay Beach
The Gay beach is located to the east of the southern tip of the salt pans and has it's with it's own beach bar the Chiringay. The Es Cavallet Gay beach is about 30 minute walk from the bus stop, along dirt track road through bushy forest
Bus 11 from Ibiza town via San Jorge to the bus terminus at Salinas approximately every hour in Summer with a break early afternoon More information Bus Route 11
Platja de ses Salines beach Nude beaches
Alternative names used on maps: Playa salinas
Platja de ses Salines beach in Ibiza is a fabulous beach that is very popular with families and couples. It is the nearest beach on the Ses Salines peninsular to the bus stop. The beach has a selection of beach bars and restaurants such as the Sa Trinxa, Alibu and Guarana
Salinas beach is also popular with nudists, clubbers and hippies at the far end, the south eastern tip Punta de ses Portes, where the tower, Torre de ses Portes is.
Going around this tip and a short walk northwards are the beaches Platja des Solsero and then Platja des Cavallet
Bus 11 from Ibiza town 10km, via San Jorge to the bus terminus at Salinas approximately every half hour in Summer with a break early afternoon. More information Bus Route 11
There is a shop at the bus stop so you can obtain a bottle of water or soft drink if you are going to one of the quieter areas away from the beach bars, or doing the half hour walk to the gay beach
Majorca, Balearic islands, Spain Nude Beaches
Es Trenc Nude beaches
A very popular beach attracting 1000s. A couple of bar / restaurants are there but a bit pricey. The first part of the beach is topless then you come to the nudists area further along. The best nudist beach in the Es Trenc area is Playa Es Pregons Gran
Playa Es Pregons Gran Nude beaches
A small crescent shaped bay of fine golden sand, with crystal clear water. The best nudist beach in the Es Trenc beach area, which includes other nude beaches. 15-minute walk north along the shore from the resort town of Colonia Sant Jordi.
Costa del Sol Nude Beaches
Costa Natura - Estapona , Costa del Sol Nude beaches
A great nudist spot is the Costa Natura nudist beach & camp
4 Km from Estapona on N340 towards Gibraltar or Algeciras
15 miles from Gibraltar
Guadalmar Nude Beach - Malaga / Torremolinos Nude beaches
Guadalmar beach Nude Beach, Between Malaga & Torremolinos on the Costa del Sol

Beyond where the sea front road ends at Los Almos continue on the beach to where the golf courses are and beyond towards Guadalmar you will find a naturist beach and further along is a gay area of the beach.
This location is approximately 8km east of Torremolinos. There are beach bars at Los Almos, Torremolinas and at Guadalmar
By road look for signs to Parador de Golf or Guadalmar.
Benalnatura, Benalmadena , Torrequebrado, Nude beaches
On the Costa del Sol between Benalmadena & Fuengirola. The beach is small and in a rocky cove that has a rocky seabed which is ideal for snorkeling. There are Nudist and non-nudist areas.
By Benalmadena - Fuengirola bus get off at the Flathotel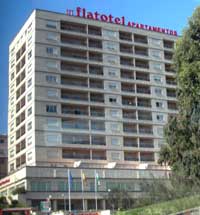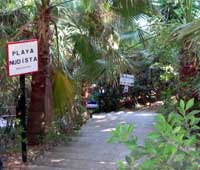 Get off bus at Flathotel bus stop & Steps leading to Benalnatura Playa nudista
Then walk, in the direction of Fuengirola, along the one way side road that runs parallel & on the coast side of the dual carriageway main road for about 300-400 metres until you see the sign for
Benalnatura Playa nudista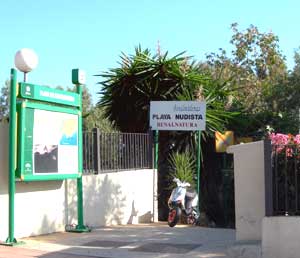 Photograph entrance to Benalnatura Playa nudista, Nudist beach
When selecting an area to sunbath the western side comes into the shade the first.
There is a good beach bar, showers and toilets and massage is available
Gay areas can are located just around either of the two rocky headlands to the small beach.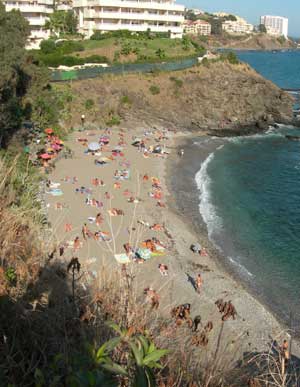 Photograph of Benalnatura Nudist beach - Playa nudista
Surprisingly the cove is in a built up area as can be seen in the photograph, but a curtain style screen has been erected along the cliffs
Cala El Mago - Costa del Sol Nude beaches
Cabo Pina / Las Dunas ***Very popular*** Nude beaches
Between Fuengirola & Marbella, Costa del Sol
About 5 -10 km east from Marbella
Roughly half way between Marbella & Fuengirola
30 km west of Torremolinos
The nude beach starts immediately, about 200-300, west of Cabo Pina harbour and beach
If traveling by bus ask for Cabo Pina. The beach is approximately 500-800 metres from the main road.
There is a very pleasant beach bar / restaurant at the beach Las Dunas bar.
There is a very large car park amongst the pine trees dunes with a compacted sand surface
Gay in dunes and pine woods
Playa Cantajarran beach - Nerja, Costa del Sol Nude beaches
Playa Cantajaran beach has very large pebbles so some footwear is handy
The beach is blessed with 2 good beach bars and restaurants
From Nerja head for Herradurra. Turn off just before tunnel at the Cerro sign
Sa Marjal - Costa del Sol Nude beaches
Costa de Almeria, Spain Nude Beaches
Vera Playa Naturist Zone Nude Beaches
Vera Playa is located on the Costa de Almeria, in the south-east corner of Spain. Near to the hill top Moorish village of Mojacar. The Zona Vera is a nudist area with around 2,000 properties, including nudist apartments, nudist hotels, nudist complexes, bars, shops and the streets of the zone..The nude beach - el playazoel
Note Package holidays to Mojacar are available from Thomson Holidays Thomas Cook
Nearest airport: Almeria 90km
Almeria Airport transfer shuttle service to Vera Playa
El playazo beach Vera Playa Naturist Zone
El playazo beach Nude beaches
A large naturist beach with over 2 km of "nude only". The naturist beach usually more crowded than the "swim costume beaches".

Nude accommodation in the naturist zone
Mayca Natura Apartments Nude Beaches
Naturist zone of Vera, Costa de Almeria, Spain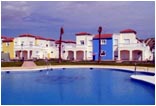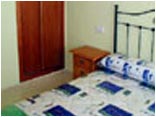 Naturist complex situated in the zone of Vera. At this establishment it is obligatory to practice nudism.
Vera Playa hotel Nude Beaches
Naturist run hotel in a nudist area.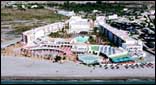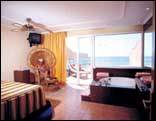 Book Accomodation, flights & transfers with
Sunshine Holidays


Menorca (Minorca), Balearic islands, Spain Nude Beaches
Macarella - Menorca Nude beaches
Macarelleta - Menorca Nude beaches
Son Bou Beach - Menorca Nude beaches
The narrow sands of Son Bou Beach span around 2km and is Menorca's (Minorca's) longest beach. The beach has bars, restaurants, water sports and lifeguards. The far end is dedicated a nudist beach.
Canary Islands , Spain Nude Beaches
Tenerife Nude beaches
Playa de La Pelada, Playa de los Patos, Playa de Diego Hernandez, Playa de Las Gaviotas, Playa de Montaña Amarilla, Playa de Montaña Pelada, Playa de la Tejita, Punta del Puerto, Punta del Callao Los Cristianos
Full information on these is available our specialised Tenerife site
Tenerife nude and or gay beaches
Nudist Books Nude Beaches
| | | |
| --- | --- | --- |
| Guidebook for skinny-dippers and nude sunbathers . More than 200 nude beaches | Beautiful guide to Britain's best places for baring all | Naked Germany provides the first comprehensive history of the Freikrperkultur, or nudist, movement |
| California's Nude Beaches | Lee Baxandall's World Guide to Nude Beaches & Recreation | Naturist Guide to Europe |