Beach Club Waterpark Benalmadena Costa, Spain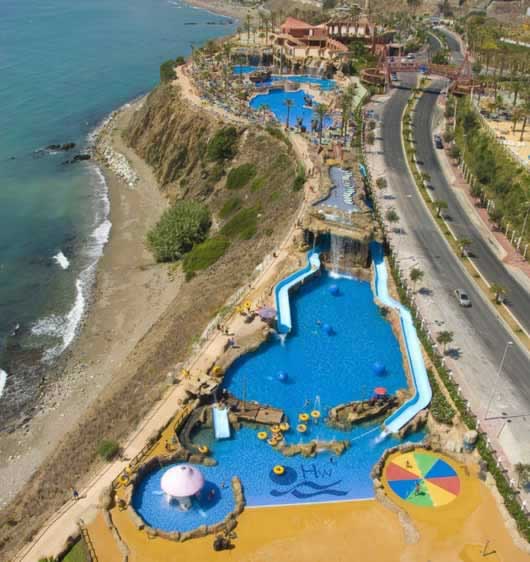 Holiday World Beach Club Waterpark. Aerial view
The Holiday World Beach Club Waterpark is an aquatic world of fun, exclusively for hotels in the Holiday World complex of 4 hotels see list of hotels
The beach club has facilities to suite all ages and children will love it. There are 7 theme based areas along with a restaurant where included lunches can be enjoyed.
Open
Open from April till October
Lighthouse (Faro)
Good views of Fuengirola Bay are available from this area.
The Jungle (La Jungla)
Features a fascinating interactive fountain with 120 jets of water.
Kids Swimming Pool.
A Large tree with tree house and the Robinson's hanging rope bridge.
A Volcanic jacuzzi.
The Lost World (El Mundo Perdido)
A swimming pool with 4 different areas including water jets, atlantic waterfall.
Solarium zone. 
Atlantis Bar where kids ann enjoy an ice cream.
The Cave of Terror
Tempestuous sea.
Large Waves.
Large Waterfall.
Treasure Island Boat & Caribbean Sea
Large Pirate style boat.
5 jacuzzis.
Waterfall.
Swimming pool & 4 large elephants.
Kids Area
Sunken boat.
Kids playgrounds.
Mushroom dressing room shower with 2 slides.
Swimming pool with relaxing loungers.
Wave pool.(See opening)
Holiday Stadium
Football.
Tennis.
Paddleball.
Basketball.
Play with your family, friends or other guests & you can reserve a court at the hotel.
Location of the Beach Club
The in located on the top of a low cliff above the beach and sea on the sea wood side of the main dual carriageway Benalmadena Fuengirola Main Road the Av de Antonio Machado (N 340)
The hotels are located on the hillside on the inland side of the main road.
There is a free transport service between the hotels & the Beach Club.
There is also a bridge from Hotel Holiday Polynesia to the Beach club
Holiday World Complex Hotels
All Inclusive Guests
Guests on All Inclusive in hotels the Holiday World Group, listed below, have free entry to the Holiday World Beach Club.
More information on these hotels. The site will search for the best price available, if yoy wish to book.
More Beach Club Benalmadena Photographs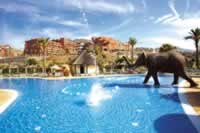 Beach club Waterpark & Elephant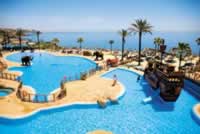 Beach club Waterpark & Pirate Ship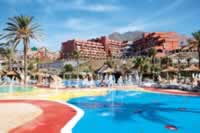 Beach club Waterpark with Polynesia in the background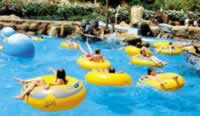 Beach club Waterpark Inflatable's in the Wild Ocean
Costa del Sol Menu
Resorts in the Costa del Sol
Torremolinos
Costa del Sol Hotels & Apartments
More information