Sitges Bars Sitges Clubs & Sitges Discos, Spain
El Cable Tapas Bar Sitges
El Cable Tapas Bar Description
Unlike many Tapas bars El Cable's Tapas are all homemade which they cook themselves.
They bar has plenty of experiance its has been run by 3 generations of the family since it opened in 1940
A wide range of Tapas from €1 €8, but mainly around €2.50 to 3.00
Download a Tapas & Drink Menu
El Cable Tapas Bar Location
1 Barcelona st. · 08870 Sitges
See Location of El Cable Tapas Bar on our Bar Map
L'Atlantida Disco Beach Sitges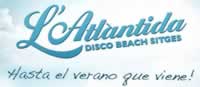 L'Atlantida Disco Beach Sitges
L'Atlantida Disco Description
The Atlantida, managed by Charlie Mcready, is Catalonia's top number 1 open air disco & only open during the summer months. The disco can hold 1550 part goers.
The venue has a:
Main room
Private room
A garden of %00 square metres
Beach
and offers a wide range of events & parties that cater foir both the gay & staight scenes.
A bus operates from Hotal Calipolis in Sitges on some of the party nights.
L'Atlàntida Disco Location
This large popular disco is located right on the very edge of Sitges on the Eastern side at Platja de les Coves beach.
The growds at the disco spread out from the building onto the disco's private beach.
The venue is famous for it's beach parties, some of which are gay.
It's a 45 minute walk fom the centre of Sitges along the sea front and just past the golf course
If you dont want to walk the disco has a large car park or otherwise a taxi is the answer.
A bus operates from Hotal Calipolis in Sitges on some of the party nights.
L'Atlàntida Disco Video
See Location of L'Atlàntida Disco on our Bar Map 
Prisma Bar
Prisma Bar Description
A select cocktail bar in the heart of Sitges Sin Street.
Open
6pm 3am
Prisma Bar Location
Marques de Montroig, 11 / Prisma Primer de Maig Street
See Location of Prisma Bar on our Bar Map
Titos Bar Sitges
Titos Bar Description
Tito's ia a top music bar & karaoke bar. Drink prices are a bit higher than a lot of bars so customers tend to go later
Tito's was the first bar to open in Sin Street in 1967
Titos Bar Location
Carrer 1er de Maig
See Location of Titos Bar on our Bar Map
Pacha Sitges
Pacha Description
Pacha the very well known brand of night clubs with 19 clubs throughout the World. And it all startred here in Sitges with the original Pacha club in 1967 in an old farmhouse.
The club has 500 square metres and can hold 900 party goers
Drinks and Cocktails Average price 8 euros
Open
00:00 to 5:30
Pacha Location
Pacha is located both inland & to the west of the Railway Station 600 metres inland along the C211 from where is goes under the railway line. Then a right turn.
C / Sant Didac s / n Urbanización Vallapineda, Sitges
See Location of Pacha Club on our Bar Map
Ruta 66 Disco
Ruta 66 Disco Description
Look forward to a special night in Ruta 66 nightclub, named after the famous 400 mile east west usa highway, Route 66.
Open every day in August, in other months Open Friday, Sundays & holidays Midnight to 6am.
Ruta 66 Disco Location
In Sin Street
Primer de Maig Street 12
See Location of Ruta 66 Disco on our Bar Map
Sweet Pacha Sitges
SweetPacha Description
The Pacha group have put together many of the great Pacha features and mixed them into a new concept & Sweet Pacha was born so that you can enjoy a great night.
Great terrace overlooking the harbour, beach & sea. The terrace is a restaurant in the evening, later becomming a bar
Large club with a capacity of 600 people.
Drinks and Cocktails Average price 8 euros
Open
7pm 5am
Sweet Pacha Location
In a much more convienient location than there Pacha venue in Vallapineda, Sitges
Avenue d'aigua Port Sitges Dolç 9
Sweet Pacha Website
See Location of SweetPacha Club on our Bar Map
Los Vikingos restaurant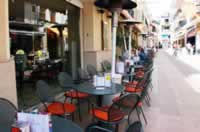 Sitges Los Vikingos restaurant
Sitges Los Vikingos Description
Sitges Los Vikingos Location
See Location of Los Vikingos restaurant on our Bar Map